Thank You
And It Gets Even Better...
(I HAVE SOMETHING ELSE FOR YOU! SEE BELOW.)
Getting your Canary Lovers Guide To A Happy and Healthy Canary package is a smart move. 
In it you'll discover how to easily recognize when your canary is HEALTHY or NOT HEALTHY. 
And in addition to that valuable information you also want to know HOW TO TREAT A SICK CANARY.
AM I right?
And that requires a long detailed, and somewhat entertaining, discussion about PREVENTION and TREATMENT of canary illnesses.
And that's why I wrote my SECOND ebook, The Canary Lovers Guide To PREVENTING Your Canary's Overnight Death....IMPORTANT!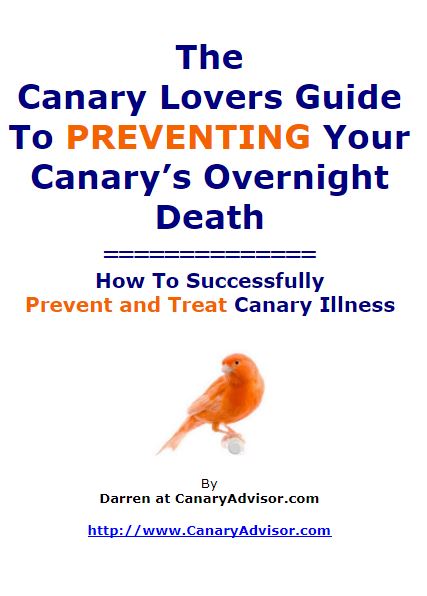 This Ebook Is
The Most Important Thing
I've Ever Written.
This PREVENT eBook is 118 pages packed with info on canary nutrition, managing the environment, and various treatments.
No Fluff. I get straight to the point.
Updated with even more information, links, and additional tips.
It's divided into 3 sections: PREVENTION, TREATMENT, and SPECIFIC ILLNESSES AND PROBLEMS.
It covers the following...
4 Steps To Successfully Treating A Sick Canary
7 Ways To Keep Your Canary's Immune System Strong
The 3 Canary Seasons
Healthy Molting
3 Ways To Prevent An Off-Season Molt
How To Hand Feed A Sick Canary
Covers how to recognize and treat common problems like diarrhea, constipation, lack of appetite, voracious appetite, listlessness, lack of singing, bald spots, and many others
And much, much more.
It is also being promoted below the regular price. Normal price is $39 but you can get your copy today for just $17 when you order at the same time as your "HAPPY HEALTHY" ebook.
NOTE: If you try to order later it will be at the regular price.
And it comes with 4 free bonuses...
• BONUS #1: THE CANARY LOVERS FIRST-AID KIT CHECKLIST - - 30 Important Items Every Canary Owner Should Have Next To The Cage

• BONUS #2: THE CANARY LOVERS RESOURCE LIST - - 39 Must-Know website links where you can get the important products or extra info you need.

• BONUS #3: The Canary Lovers Guide Special Report: ALL ABOUT FEATHER PLUCKING IN CANARIES - HOW TO PREVENT AND TREAT THE IRRITATING HABIT OF FEATHER PLUCKING

• BONUS #4: The Canary Lovers Guide BONUS REPORT: MEGABACTERIA (AGY): How To Prevent, Recognize, and Treat This Common Bacterial Infection
Add this "PREVENT" EBOOK and BONUSES to your order now.  
I guarantee you'll love it or I'll give your money back.
Just $17 For The Whole Package
One Time Opportunity---Only Available At This Price
With Same Day Purchase of the HAPPY HEALTHY ebook.
Regular Price: $39     Your Price: $17