What's the #1 Way
To Increase Canary Song?
To increase canary song in your bird use the same results-oriented trick that award-winning breeders use...
---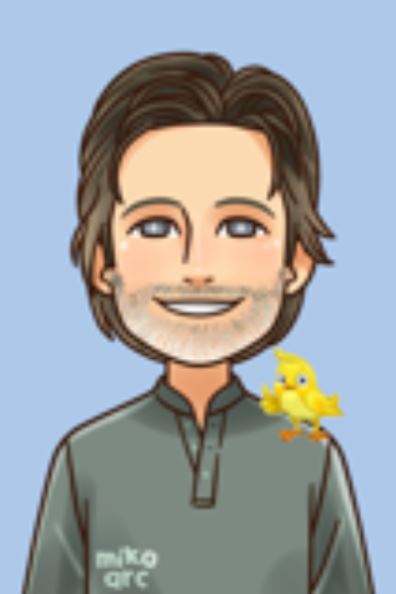 Hi, I'm Darren,
Pet Canary Breeder and Canary Care Coach
---
From Darren's Aviary
Wednesday 8:12 am
RE: How to Increase and Improve Your Canary's Singing
Dear Fellow Canary Lover,
Has your canary stopped singing? Or just slowed down his singing recently?
It's not an unusual problem. But there is one sure way to get him to sing more...
Canaries are encouraged to sing and learn how to sing from other canaries. And, of course, you want your canary to learn from the BEST. So, you have two clear and very straight forward options...
1. You can either pay upwards of $200 for an award winning song canary to help train your bird or...
2. You can save a whole lot of cash and get canary song MP3s.
I opt for the latter. The audio recording sings on demand, doesn't eat much, is easy to clean up after, and it's a lot easier on the pocket book.

How To Increase Canary Singing
***********************
"Classic Canary is one of
the most cherished recordings I own."
I am asked ALL the time..."How can I increase my canary's singing?'
Well...The number one answer on the long list is...
"Get Canary Bird Song MP3s".
Not only will high quality canary song recordings teach your bird to sing like a champ, it's a pleasure for YOU to listen to as well.
And it will do wonders for lifting your bird's spirits. You'll be shocked at how quickly your canary will perk up and take on a new vivacious and inquisitive personality.

Quality canary song music is definitely
an important part of good canary care.
The Classic Canary album is BY FAR my favorite canary song MP3 or CD available. I spent a lot of time learning and searching and listening, making sure my visitors have access to superb professionally done recordings. I have no reservation in saying..."It's the best!"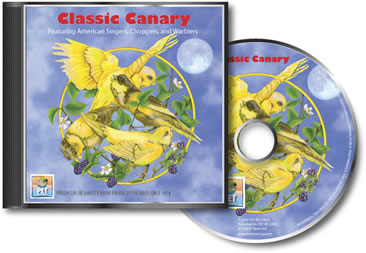 Do you know canaries are mimickers?
They don't have the ability to mimic human words like parrots but they WILL mimic other song birds.
With these recordings your bird will learn canary bird sounds and songs from some of the TOP singers around.

The canaries on this album are NOT run-of-the-mill alleyway yodelers. No, these are talented, well trained *performers*.
They know how to belt it out with the best of them. Your canary will be discovering and singing new canary songs right along with the best in the business.
This MP3 audio includes 13 tracks of Choppers, American Singers, and Warblers. Plus, a few of the canary song tracks are accompanied by delightful piano and acoustic guitar music...Very pleasing to your canary AND you.
Chopper Canary Song
Chopper Flock
Choppers and Music
Music Only
American Singer Canary Song
American Singer Flock
American Singers and Music
Music Only
Warbler Canary Song
Warbler Flock
Warblers and Music
Music Only
American Singers, Warblers and Choppers


You can order the MP3s below and have them downloaded to your computer, smart phone, or tablet within minutes...
The MP3 Download is just $9.97 and includes the free report (see below). Click the BUY NOW button to order...


Major Benefits of Using a High Quality Recorded Canary Songs
These professional recordings can been used for...

Training song canaries: These are the kind of recordings breeders use to train their award winning canaries. Like I said...Your canary will learn to mimic these talented songsters. Canary bird singing training.
Sexing canaries: Not sure if your canary is male or female? Play these MP3s of canaries singing. A male WILL sing.
Improving attitudes: It'll put your canary in a happy mood, making him a more enjoyable companion.
AND...
Beautiful, high quality canary songs are NOT all you get...
---
BONUS
Order today and included with your recorded canary birds singing will be a FREE Special Report entitled...
Canary Care EXPRESS
A 17 page chronicling of the history of the canary and how it came to be such a popular pet...

Physical and personality traits of the three distinct types of canaries... The Color Canary, The Song Canary, The Type Canary
  PLUS... This Special Report also includes a succinct run-down of important canary care issues... Housing and exercise. Feeding.  Molting. Dealing with a sick canary. 
And a list of "Do's and Don'ts" that will help keep your canary S-I-N-G-I-N-G! 
 This report is very much like a boiled-down version of CanaryAdvisor.com-->The most helpful information squeezed down to it's smallest form. 
And here's the best part... It's included in Ebook format so that you'll be able to gain INSTANT ACCESS. You'll be reading this Special Report on your computer screen in 5 minutes. It's included at no extra charge with your MP3 or CD order.


I Guarantee You'll Love It
Of course...there's no guarantee that your canary will sing along with your recorded canary songs...
Oh WAIT!...
Yes there is...
IT'S GUARANTEED!
Your canary will love these canary song recordings.
He will brighten up with renewed interest.
He will become energized, excited, AND...
He WILL sing along with the "other canaries singing".
I guarantee it. Plus...
This is more than a guarantee...This is MY personal promise. I want you to be completely satisfied.
If not...
just let me know, and I'll refund you're entire purchase price.
No hassles.
No back-talk.
No delays.
" He reacted immediately.
You should have seen his throat fill up!"
Hi Darren,
Thank you for your fast response to my order for the Canary Album.
I received the recordings last Friday and played it for Caruso, my American Singer. He reacted immediately. You should have seen his throat fill up!
He started singing song after song. He is a pretty good singer, but after a few songs he added another very high note to his repertoire that lasts a full 3 to 5 seconds, and then he goes into his usual song which usually ends with a "boo, boo, boo".
I am amazed at the clarity of the singing. It sounds like I have a whole aviary here in my house again. It is a splendid album.
Caruso and I thank you again,
Patti Mauck
Claremont, FL
pmauck@cfl.rr.com
"It worked!"
Hi Darren,
Downloaded the recordings today! It worked!
We played 2 tracks and the male canary was singing away.
Thank you,
Mona Myers
Kokomo, IN
Mona3812@aol.com
"It was so beautiful and made my heart soar
to hear his lovely song after all this time! "
Hi, Darren!
Saturday was a sunny and beautiful day here. I put Luther in front of the big picture window of my home so he could "catch some rays" and put on the new canary songs for him to listen to!
When he first heard it, he started getting so excited and flying all over his cage. Then, HE STARTED SINGING AGAIN! It was so beautiful and made my heart soar to hear his lovely song after all this time!
Needless to say, Luther and I are both overjoyed with the new songs! Thanks so much for recommending it!
Take care,
Kathy Mowrey
North Little Rock, Arkansas
kathymowrey@goldmanlr.com
I want you to have these canary singing recordings because, although I can't prove it, I have a theory that when given the opportunity to listen to recorded canary song on a regular basis your lone canary's health will improve.
I know--to some--that may sound silly. But although canaries are generally considered non-social birds, they DO enjoy hearing other canaries. I believe it will make your canary happier and healthier.
Your canary will LOOK healthier and ACT healthier and more alive when you play these canaries singing. I see it happen all the time with my pet canaries...and I've had other canary owners tell me the same thing.
A canary will just be flitting around the cage--his normal subdued canary self--then I play the MP3s and...
His World Changes.
He brightens up immediately. Let's face it...Good music puts you and I in a good mood and...
Good moods make us feel good--and, I believe-->they're good FOR you.
Is there any reason to believe it's different for our canaries?
I KNOW that once you have Classic Canary in your home you won't want to part with it. It will become one of those staples that MUST be available for you and your canary...
Like fresh water and seed you'll want this canary song MP3 nearby at all times.
You can own Classic Canary MP3s for just $9.97.
Seriously, claim your MP3s now. You'll be very happy...or I'll insist on buying it back.
Still undecided?
Remember...
The MP3 Download is just $9.97 and includes the free report. Click the BUY NOW button to order...


All my best to you and your bird,

Darren P.D. Walker
CanaryAdvisor.com
Make your Canary S-I-N-G!
P.S. Order now and you'll be downloading the MP3s and the Bonus Report in the next few minutes. 
Remember...it's Guaranteed.
P.P.S Here are some additional testimonials I've received. (Note: They aren't hand-picked from my "buddies" either. These are real folks just like you who have greatly benefited from "Classic Canary" recordings.)
"I really thank God that I found you on the web."
Hi there,
I received my CD today and I really thank God that I found you on the web.
...within 10 minutes, the little canary was singing along with it and I enjoyed the music, also.
Now my canary is "singing like a bird" and I'm also sooooo thankful for all the useful information you provide about canaries.
I expect to have a happy future filled with beautiful NATURAL music.
The Bible doesn't mention about Jesus singing but I know that I am hearing HIM when I hear my Canary.
Sincerely,
Faith Navarro
Seligman, MO
Beshway1@MC2K.com
"I just absolutely LOVE it!"
Hello !
I just received the CD, and I cant find words to describe how beautiful it is!!
I have 2 canaries and one of them had stopped singing. The minute he heard this CD, he started chirping, and within minutes he was singing!
I just absolutely LOVE it! Even people that have no birds would love it.
I also have some finches that started making their little *Tweet* sounds when they heard it.
I have found the CD to be very soothing to both my birds, and myself. I would highly recommend it to anyone, even if you don't have a canary!
Thank you for making it available to us!
Have a Very Blessed Holiday Season!
Sincerely,
Sherry Etheridge
Yucca Valley, CA
desertdogs@starband.net
"My canary loves the CD"
My canary loves the CD I ordered.
He got upset and started flying all over the cage when it stopped.
Thanks,
Carole
Florida
at-law@juno.com
" Wonderful investment"
I love my new CD! He sounds just like the CD.
Wonderful investment, thanks sooo much!
Aimee LaPine
Highland Heights, KY
a.lapine@insightbb.com
---
After You've Received and Listened To Your CD Let Us Know What You Think...
What did YOU think of Classic Canary on CD?
What Other Visitors Have Said...
Click below to see contributions from other visitors to this page...

---