Molting Canary.
Do Bad Haircuts Make You Sick?
When a molting canary goes through his annual molt he needs extra attention made to his canary care.
MOLTING...
...is not a canary disease but can have a detrimental effect on canary health.
It is the natural process of your canary losing and replacing his feathers.
The annual molt occurs once per year--beginning at the height of summer when daylight reaches 12 to 14 hours per day--and lasts about 2 or 3 months...sometimes longer.
This is why it is important to cover your canary's cage at sundown in the winter...too many daylight hours may result in an off-season "soft" or "shock" molt. Another opportunity for your canary to have a decreased immunity to illness.
Regarding the molt Mathew M. Vriends states that such off-season molts...
Molting can have a negative effect on canary health...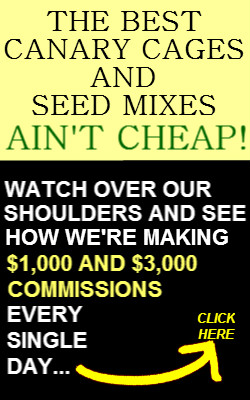 During the molt your canary will...

He will also appear...
listless. Molting takes a lot of energy.
Proper health care during this time includes...
providing a bath for your molting canary everyday during the molt to keep his new feathers clean and healthy and...


You should help a canary along by giving him a good well balanced diet. AND..


In addition to his usual diet a molting canary should be given a molting supplement to get him through this stressful time.
This is a food supplement that will help insure that your molting canary is getting plenty of protein, of which the canary feathers contain 88%, and other nutrients for conditioning feathers and enhancing color.
For more on how to "LISTEN" to your canary's body language and how to recognize subtle symptoms see CanaryBirdLISTENING.com
---
CanaryAdvisor.com's Canary Tips! Ezine delivers only original and immediately usable canary care information that...

...Keeps your canary S-I-N-G-I-N-G!

Thousands of canary lovers are enjoying their
Canary Tips! -- Read what some have to say...Click here.

Sign up here...sign up now...It's FREE.

Have you read about the dreaded canary belly-ache yet? Click here to learn about digestion problems in pet birds.

Return from Molting Canary to Canary Disease Main Page.