Make Your Canary S-I-N-G
With These Useful Canary Tips
The World's Most Popular and Most Usable
Canary Tips E-zine
Is FREE!
---
Canary Tips! Ezine includes helpful canary care tips and techniques and are sent to your email box regularly.

Plus, sign up now and you'll receive the Canary Care Strategies eCourse as a bonus. In this content packed eCourse you get the following...

*Discover why it's vitally important that you know how to catch and hold your canary. I'll show you how to do it in 3 quick and easy steps.

Canary Tips

Hi, I'm Darren,

Pet Canary Breeder and Canary Care Coach
*How I speedily cut my canaries nails

*AND my top 3 ways to make sure your canary is singing at his best.
In addition you'll be given instant access to all back issues.
TO SUMMARIZE, YOU GET...
1. FREE subscription to Canary Tips! Ezine.
2. The Canary Care Strategies eCourse
3. Instant access to all back issues of the E-zine
Sign up now. It's all free...
The tips Ezine includes in-depth articles regarding all aspects of canary care...
Plus, we are constantly on the lookout
for the best deals (sometimes "steals")
available on pet supplies for canaries.
WE do the searching ...so YOU don't have to…
Thousands of subscribers are enjoying their free Canary Tips!
Read what a few have to say...
----------
"Dear Darren, I have just received your latest issue...I really enjoyed reading it. Some of the canary tips came in very handy, especially the section about the canaries feet and legs...Thanks again for the most informative tips and looking forward for the next issue."
-Godwin Callus, tinka@maltanet.net
---
---
"...was wondering if you had sent out the new newsletter yet...I didn't want to miss your monthly newsletters because I really enjoy them & you've helped me out a lot! I am saving them in a special folder for future reference.

Thanks very much for all the advice!."

-Lisa Steider, jsteider@alltel.net

----------------

"Many thanks for your wonderful articles on canaries. My father died 2 years ago and I was left to look after his 3 canaries. Being a rookie I made many mistakes...Luckily I found you on the internet and your advice is excellent and I am following all your tips and the birds are quite happy. Thanks again for your helpful hints. Yours faithfully.

-Max Edwards, South Australia, maxedwar@tpg.com.au

---------------

"...about a month ago my bird was not singing, I started to cover his cage as suggested and he started to sing within 3 weeks. This morning he sang for 4 hours straight. What a delight, thank you for your advise."

-Pat, Plij@comcast.net
---
---
"Just wanted to let you know how much I enjoyed and benefited from your Ezine tips - I have already read all the back issues you listed and am looking forward to the next release! I am genuinely appreciative of your work and enjoy your writing style as well - very "down to earth."
-Debbie Lewis, debbieloo@jam.rr.com
---------------
I've read your newsletters and you corner the market on what to do with canaries. Thanks so much for your help!
-Dianna Bowling, dianna.bowling@insightbb.com
---------------
Dear Darren, Thanks so much...I love my little canary. He's got so much personality. I never would have imagined. Anyway, it has a lot of good tips. Thanks again
-Patty, am_wisha@excite.com
---------------
Hi Darren, I enjoy the Canary Tips! They provide much information which is difficult to obtain elsewhere.
-Dennis Neuin, dneuin@yahoo.com
---------------
Hi D - Thanks so much for your interesting, entertaining and informative newsletters - I just love all the stuff you write and send out, so keep up the good work...the style of writing is great!
-Heather Balouza, Heather.Balouza@rbm.co.za
-------------


Sign up now...
Signing up for the e-zine is a smart move. You'll get valuable, straight forward, and to-the-point canary care information that will...
Make your pet canary S-I-N-G!
I'll be talking to you again soon...this time in your email box :-)
Click here to return from Canary Tips to CanaryAdvisor.com Home for more on canary care.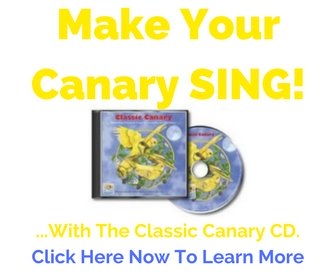 SEARCH CanaryAdvisor.com.....