With Smart Canary Care You'll
Make Your Canary Bird S-I-N-G!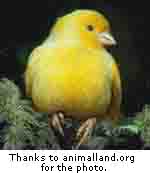 "Welcome. I want to show you how to quickly and easily use SMART canary care to keep your canary bird happy and healthy.
Answering hundreds of questions like...
"What can I feed my canary?"
"Why won't my canary sing?"
"What is the molt?"
"Does my pet canary need special care"?
"What kind of canary cage do I need?"
...and a whole bunch more.
Use these simple tips like a pro on subjects like health care, canary disease, canary foods, training tips, increasing singing, AND bonding and communicating with your bird."
---
For
CANARY LOVERS
Only
Get the FREE
Canary Care Strategies
Tip Kit
1. You'll get a FREE subscription to CanaryTips! Ezine where we cover everything from feeding to breeding.
2. AND you'll get your FREE eCourse on catching your canary bird, holding him, and trimming his nails.
--Includes an introduction to giving a quick at-home canary health exam.
--PLUS 3 ways to increase your bird's singing.
Sign up now...It's ALL Free...
Click Here for More Details.
Are you providing smart canary care?  By doing so you CAN make your canary bird S-I-N-G...literally and figuratively.
You are discovering the valuable keys necessary to turn yourself into your canary's best friend.
His company, along with his beautiful singing voice, can...
--Raise your spirits and lower your blood pressure
--Move your heart and slow your aggravations
--Provide companionship when you're feeling alone
With smart canary care you WILL make your canary bird S-I-N-G!
==========
==========


Click on the canary above to hear a sample of an American Singer canary with music.
********************
Get the Canary Care Express Special Report FREE when you grab the Classic Canary CD...Get It Here.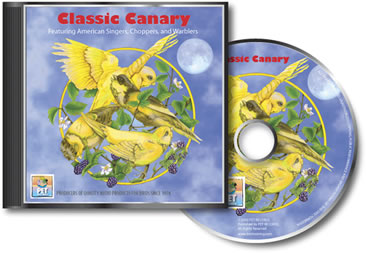 Since I Was 8 Years Old...
...I've been a big fan of pet birds. I started with parakeets, spent some time with cockatiels, but ended up with canaries. I'm pushing 50 years of age now so I've been doing this awhile.
Once I was introduced to canary birds by my uncle I fell hopelessly in love with these little "sugar birds" and decided to start breeding them.
I created CanaryAdvisor.com to show you how best to take care of these great pets and get the most out of owning one or more...and maybe even give canary breeding a try for yourself.
The canary is more beautiful than you ever imagined. Sure, they're pretty to look at but...
To own one gives you the joy of listening to beautiful natural bird songs and the delightful visual splash of color and activity inside your home. And it's nowhere near as difficult as some make it out to be.

All you need is enough information, and a reasonable measure of common sense. I like to think that I can offer you plenty of both, so let's get started...
Canary Care Secrets?
The secret to your canary's happiness is no secret at all. The information you need is right at your finger tips here on CanaryAdvisor.com and in the Canary Tips! E-zine.
In a nutshell, here's what you want to do...
1.  Provide all your canary's needs like...
A high quality canary seed mixture.
Fresh clean water.
Clean and roomy housing.
Health care to keep your canary bird disease free.
   2. Then allow some joy into your bird's world such as...
Special delicious and nutritious treats.
Allowing him out of the cage for a bout of flying.
Entertainment in the form of items to pick up and carry around, a mirror (only if he doesn't fight with it), and a swing.
   3.  Plus...communicate with your canary...
Speaking with soft words.
Using gentle body movements.
Great canary care starts with knowledge.
Easy Pet Canary Knowledge...
Your canary is depending on YOU to provide all his needs and wants.
So come along with me now and lets take a look at CanaryAdvisor.com's helpful articles.
You'll discover how proper canary care can get your pet canary bird into strong physical shape and develop a healthy confident attitude.
 
Plus proper feeding for optimal nutrition, the right snack foods to offer...and what foods can kill him. Also, false information your pet shop attendant may be giving you...
 
I'll reveal hard-to-find details about...
...where to snag the best deals on cages, supplies, and canary bird food. 
 
I'll point you to great websites where you can search for a canary for sale.
 
And learn to read your pet birds body language...What is he trying to tell you?
Sick bird? You must act quickly!
Just click on one of the links below and discover canary bird care that will help you become "family" to your pet canary bird...
And by the way, don't forget to sign up for CanaryAdvisor.com's Canary Tips! Newsletter.
Canary Tips! is free and full of helpful advice on taking care of your canary bird that may not be featured in this website.
Just enter your first name and email address in the box below. Or click here for more info.
Sign Up For Free Canary Tips Here...
Take The Tour...
After you've signed up for CanaryTips Ezine, take a tour of CanaryAdvisor.com. Below are numerous articles to get you started...
What's the #1 Way to Increase Canary Song? Use the same results-oriented trick that award-winning breeders use...
101 Highly Recommended Canary Bird Supplies and Products By CanaryAdvisor.com
Canary care guidance from an experienced canary professional. Ask your question now...
Canary care updates and time sensitive information regarding your pet canary bird.
Using the right canary tips you can become your canary's best friend...and keep him S-I-N-G-I-N-G!
Get your free copy of How To Catch and Hold Your Canary In Three Easy Steps...For His Own Good eCourse
About Me And My Site.
Canaries are what they eat. Good canary foods mean a happy and healthy pet bird...and a S-I-N-G-I-N-G one too...
Keep in mind three things regarding your canary cage...Size and Shape, Location, and Furnishings. Simple guidelines for a simple pet...
Canary Health. Don't let your canary bird get down in the dumps--or down on the floor of the cage in this case--Does your canary have good health? Are you sure?...Canary Care
Imagine a bright, cheerful, singing companion free from canary disease. Definitions of the most common pet bird diseases...plus treatment information for great canary care.
Sick canary symptoms. Before you can wage war on canary disease you must know what to look for...
Canary Illness. Save your canary bird! First-things-first...when confronted with a sick bird the most important thing you can do is make your bird comfortable. I'll show you how...
Wage war on canary illnesses. Powerful tips for treating your sick canary bird with medicines...Which medicines to use and when...
The pet canary bird and the simple joys of pet canary ownership...
Canary For Sale. Tips and techniques for finding that perfect canary bird for sale...
Fun-Facts about the three canary types and their hundreds of breeds of canaries.
All About Breeding Canaries. Discover the joys of breeding canaries...
Canary care site-map. Information on feeding, housing, health care, breeding, and where to get the best deals on canary bird products.
Search CanaryAdvisor.com or the Web
comments