Canary Foods That Will
Make Your Canary S-I-N-G!
Feed the best canary foods and a healthy canary will eat all day long...virtually non-stop...snack, snack, snack...
It's a wonder they don't all get FAT, well, some do, but if you provide the RIGHT canary foods for your bird in the right amounts he will stay a...
Lean, mean, singing machine!
Make sure your feathery friend gets a good staple of...
--Canary seed mixture
--Cuttlebone for calcium
--Fresh water
--Then provide him with healthy and wholesome treats, like approved fruits and vegetables, and in no time you'll be your canaries best friend. 
Also keep in mind that...

Some foods can KILL. More on that in a minute.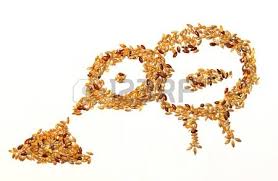 Canary Seed Mixes
What's the first thing you think of when thinking of canary foods?  I know what you're thinking...Bird seed of course.  And you'd be right.
However, it's important to know that there are as many kinds of commercially available seed mixtures as there are species of bird. Give your canary...Canary Seed--Hey, I never said this is rocket science.
There are different mixtures of canary seed. Make sure you're using a good one for your canary foods. Hint...you get what you pay for. For great tips on seed as canary food read this article...CLICK HERE.
A great variation on the standard DRY canary mix is soft seed. Prepared correctly it is a highly delectable addition to plain old dry seed. See the article The Controversy: Boiled Seed vs. Soak Seed. 

FREE Email Course.
Sign up below and get the 5 part email course: "The #1 Problem You Will Face As A Canary Owner"
Recommended Canary Items...
Now let's talk about...
Treats
Watering information
Grit
Vitamin and mineral supplementation.
A big part of your canary's diet are...
CANARY FOODS: TREATS
-->HEALTHY treats of course. Fresh baked brownies won't cut it...I keep those for myself ;-)
Remember, some treats are great as bird foods and others can KILL...and I'm not just talking about brownies and other fattening foods. (Actually brownies won't kill your canary but they will make him fat and unhealthy.)And a canary that's not feeling well is often not noticed. They tend to hide their illnesses.
One of the things I strongly encourage you to do is learn how to spot any sign of an illness. You can learn more about spotting vague symptoms HERE.
What I am talking about are foods you might not ever think of like avocados, apple seeds, and several others.  Click here to learn what foods are super-bad for your canary---IMPORTANT.
"So...what are the GOOD treats?" you ask inquisitively.  Glad you asked...A steady supply of GOOD treats will provide your canary with vitamins, minerals, and fiber.  Not to mention-->Variety.
You have an entire page devoted to good treats like approved fruits and veggies...
Go there now...click here. 
WATER
Make sure your pet bird has fresh water available...
AT ALL TIMES! Sorry, didn't mean to yell but...
Your canary can die within 24 hours without water. The standard glass tube waterer works great.
You won't want to use a large open dish or bowl for drinking water. He'll end up trying to take baths in it and foul his drinking water. It will also end up as a receptacle for canary foods, seed hulls, feces, and feathers. --YUCK!--
SPECIAL NOTE:
There is one exception to this rule...When bringing a new canary home for the first time, it's probably a good idea to have an easily accessible water dish in the cage in addition to the tube waterer.
When you move a canary to a new cage he might be somewhat disoriented for a day or so and not be able to find the waterer. Make it easy for him that first day or two.
You might see him using the temporary dish as a bath tub. Don't worry too much about it. Let him have fun. Canaries love to take baths. Just remember to change the water often. You should provide him with a shallow dish or bird bath a couple of times a week anyway strictly for that purpose.
Get a bath ready for your canary early in the day and remove it by late afternoon. You want to make sure the bird is dry before night sets in, plus you don't want him drinking the "foul" bath water.
OK where do you NOT want to place your pet canary's drinking water?...That's right...No canary foods or water under a perch. Near a perch is good. Under a perch is bad. Don't make me slap your hand!
You should change the drinking water and clean the waterer every day to keep them bacteria free. I've known people to change their water once per week without any problems but bacteria growth in the waterer can make your bird sick. And how good can week old water taste anyway?
Grit For Canaries
TO GRIT OR NOT TO GRIT...

Bird owners have been giving there flying friends grit as a supplement to canary foods for ages. Lately though there has been a bit of a disagreement among canary aficionados as to the best grit policy...Click here to find out if you should give your canary grit or not.
My personal opinion is that canaries NEED grit and grit supplemented with minerals is ever better.  
In addition to a bit of grit now and then supplement your canary foods with...VITAMINS.
VITAMINS FOR CANARIES
Just like you and I your bird needs to have a proper amount of 
canary vitamins coursing through his body for optimal canary health.

Without living in his native habitat it's difficult to get everything he needs...even though you may be giving him all the BEST canary foods.
Right about now you should be thinking...
"How much? When? What kind? Where do I get the canary vitamins?"
Whoa!...Hold on just a cotton pickin' minute...one question at a time.  There are plenty of answers to your questions and plenty of time to get to them...Click here for answers to your canary vitamin questions.
O.K. That's my summary on canary foods. Click over to one of the articles mentioned above for more details.
Keep in touch by signing up for the free CanaryTips newsletter...
How Do YOU Feed and Water YOUR Canary?
Do you have an idea, tip, or story that may help other canary owners with feeding and watering? Share it!
What Other Visitors Have Said
Click below to see contributions from other visitors to this page...

 SEARCH CanaryAdvisor.com.....