Canary Foods and Foot Bands
by Sandy Gonzalez
(Ohio)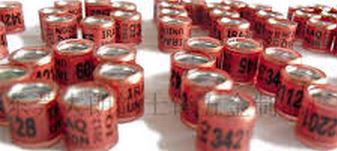 Stamped Metal Canary ID Foot Bands
Can I Make A Special Food Beside His Regular Seed With Oaks, Any Cereal, Plus What?

My male canary had a full metal band on after 2 yrs.

The band he kept biting--his foot swelled-- had to take to vet, cut off, and now he's using both feet--holds up a little after 2 days done.---

Would like to buy a bird WITHOUT banded--

Why a metal band??? Bad.