Quick Tips on Finding
A Canary For Sale.
Finding a local breeder that offers a canary for sale should not be difficult. Below I've listed some of the most well known breeders that will ship all over the country. 

canaries for sale
1. First off, I'm going to provide you with my top 3 canary sellers. 
Even if you are nowhere near one of these providers you'll be happy to know that they will ship your bird to you.
2. Next, be sure to check the free classified section at the bottom of this page for listings of breeders and birds for sale.
3. Thirdly, most areas will have several canary breeders and possibly a bird club or two that can help you find a bird for sale. I'll help you find those.
Plus, of course, your local pet shop will probably have a canary for sale although you may get a better price AND a healthier canary bird from a breeder.
Petsmart often has a canary or two for sale.
Be aware that canaries are mostly available in the spring and summer months. It can be more difficult to find a bird in fall and winter.
Are You Selling?
If you're selling canaries, scroll to the bottom of this page to add your listing.  Tell us as much as you want about your birds. You can add photos. Make sure you tell us where you are located and the price of the birds.
Recommended Canary Items...
Canary For Sale
Top 3 Canary Sellers
The following bird sellers may or not be breeders. Some places that sell canaries are in the business of buying and selling birds rather than breeding them.
That's not necessarily a bad thing. The problem though is that you don't know where the birds came from. (In a perfect situation, you would find a breeder close to where you are, visit their aviary, check the health of the birds, and choose the one you want.)
These sellers I've listed will ship your canary to you, usually for a fee. And although that can be a rough experience for a young canary, bird shipments have been a mostly acceptable practice for decades.  Modern shipping methods almost always have a positive result.
However, accidents do happen...If you have a canary for sale shipped to you, the seller will likely not offer refunds when the shipping company mishandles or mistreats the live animal.
I highly recommend you have insurance in place for the value of the bird just in case something goes wrong. The breeder may automatically insure the shipment but if not you'll want to get it covered.


New York Bird Supply

New York Bird Supply provides bird supplies of all kinds including cages, foods, medications, and yes, birds. 
They offer parrots, cockatiels, parakeets, and canaries of all kinds for sale.
As of the time of this writing they have several different varieties of canaries for sale ranging from $85 to $200 with shipping rates priced at $79.99. 
Check their website for availability and updated shipping rates.

Fly Babies Aviary
Fly Babies Aviary is located in central Florida and ships across the United States.
This aviary offers a variety of canaries, parrotlets, and finches.
They hand nurture their birds while they're young which makes for a more friendly pet.
Fly Babies Aviary offers two shipping options. The Standard shipment includes food/water, climate control, and breathing vents.  The Luxury option includes the three standards above PLUS micro-bio filters, a larger container, and a mini home environment.
As of the time of this writing they have several different varieties of canaries for sale ranging from $299.95 to $799.25.
Check their website for updated info on your bird for sale.

California Canaries
Eduardo's California Canaries is located in southern California and will deliver via USPS nationally.
Eduardo specialized in breeding the Waterslager canary but offers other varieties for sale as well. 
His birds sell for $199 to $442 and shipping charges are around $70.
Check their website for updated info on availability, prices, and shipping costs.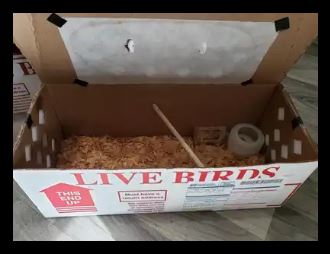 Canary For Sale
When it comes time to find that perfect canary bird for your home you need to find a reputable breeder or pet shop with healthy birds. Remember, a healthy bird is a singing bird and that's what makes canaries so enjoyable, that beautiful singing.

If you are a breeder, or know of a breeder, you can add the information below and create a whole new web page for that breeder. Or you can add any helpful info you want. See the bottom of this page.
Many breeders don't offer canaries for sale to the public. They may wholesale only. On the other hand, some wholesale breeders are more than happy to sell canaries to the general public so...
If someone turns you down, move on to the next until you find someone with a canary for sale.
Before you run off and buy your canary, make sure he has a safe and spacious cage to come home to...
The only way to know for sure is to call or visit the breeder and ask...I think you'll find that most welcome any and all buyers. More than that, most breeders will enjoy getting you started, offering advice, and answering questions.
CanaryAdvisor.com offers multiple links where you can look for your new pet. Click here for more info on finding that perfect canary for sale.
There are SEVERAL places you can look to find a breeder of canaries in your area.
Here is a list of places to look and some tips on finding the RIGHT canary for YOU...Click here to find help in finding a canary breeder in your area.
Many people that have a canary bird for sale advertise in on-line classified ads. Check'em out...Try these sites for classified ads...click here.
Start by checking out our submissions below.


FREE Email Course.
Sign up below and get the 5 part email course: "The #1 Problem You Will Face As A Canary Owner"
Once you find a canary bird for sale AND you decide it is the perfect pet for you, he'll need a name...See CanaryAdvisor.com's list of Pet Canary Names here.
Some are beautiful...some are poetic...some are down-right RIDICULOUS...but at least ONE will be perfect.
Click here to return to CanaryAdvisor.com Home.
Are You A Breeder With Canaries For Sale OR Know Of A Breeder?
Do you know where someone can find a canary for sale? Share it!
What Other Visitors Have Posted...
 SEARCH CanaryAdvisor.com.....