What's New With Canary Birds and Canary Care?
Take a look below. This CanaryAdvisor.com BLOG will keep you updated to new articles that have been added. It will also inform you of important time sensitive information such as when new canary health care information is published. You'll also be notified when I stumble across a new and valuable bird care product.
Bookmark this page now and come back often to see WHAT'S NEW!
Recommended Canary Items...
Ceremic Lamp Wattage for Canaries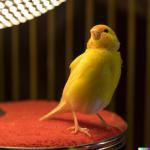 What watt lamp do I get for my canary? I don't want him to roast! I have lamps for reptiles but I'm afraid they get too hot.
 SEARCH CanaryAdvisor.com.....