The Norwich Canary.
Size, Shape, and History Of This Unique Canary Bird.
The Norwich Canary was brought to Norwich, England by Flemish refugees over 300 years ago where the canary became very popular and eventually took on the name of the town.
The Norwich canaries were smaller back then...a little over 5 inches long and skinny-ish---Is "skinny-ish" a word?
Recommended Canary Items...
The large Lancashire Coppy Canary was bred to the Norwich in the late 1800's increasing the size of the Norwich. 
Also, about this time color-feeding was introduced, further changing the appearance of the Norwich Canary.
In 1890 a group of 400 breeders and enthusiasts got together in Norwich and decided on a new standard of type and quality regarding the Norwich.
While color at one time was considered an important attribute, it has NOW been forgotten and ignored and the canary's Type has taken the lead in importance.
The Norwich is one of my favorites...the way the head feathers BULK UP around the eyes gives these canaries a very unique look.
If you're a breeder or enthusiast of the Norwich we would all love to hear your comments or story and see your photos. You can add your contibution at the bottom of the page.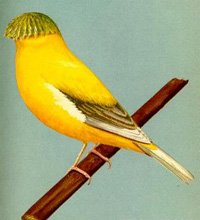 Crested Norwich
---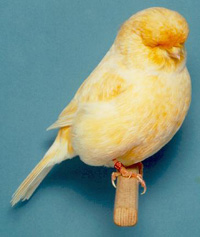 Norwich Plainhead
angelfire.com/fl/norwichcanary/
More Fun-Facts...
Canary Advisor.com's Canary Tips! Ezine delivers only original and immediately usable canary care information that...
...keeps your canary bird SINGING!
Thousands of canary lovers are enjoying their monthly
Canary Tips! --
Read what some have to say...Click here.
Sign up now and join us on our canary bird journey and you'll also receive the Canary Care Strategies eCourse. It's all FREE.
For more on the Norwich Canaries visit the The Norwich Club.
Find a breeder of the Norwich Canary...click here.
Share Your Photos!
We would all love to see photos of your canary! Post them here...
 SEARCH CanaryAdvisor.com.....