Spanish Timbrado Canary
The Spanish Timbrado Canary is the newest and L-O-U-D-E-S-T variety of all the canaries.
Developed in Spain in the 1940's and 1950's the Spanish Timbrado is an interesting variety because he is closest genetically to the original wild canary found in the Canary Islands.
When developing the Spanish Timbrado canary bird, the breeders crossed the wild canary to some of the wild song birds of Spain and came up with a vibrantly healthy and robust canary with a beautiful and Unique Singing Voice.


The Spanish Timbrado has a very loud clear metallic sound with bell tones. The song of the Spanish Timbrado is bright and cheery and resembles the chattering of Spanish castanets.

The Spanish Timbrado has a...
Beautiful Appearance.

He is a large variety of canary and can be found in...
green
yellow
white
cinnamon
variegated (light base color with dark markings).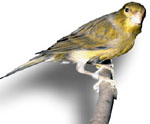 ---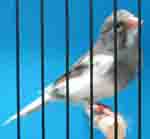 More Fun-Facts...
Canary Advisor.com's Canary Tips! Ezine delivers only original and immediately usable canary care information that...
...keeps your canary SINGING!
Thousands of canary lovers are enjoying their monthly
Canary Tips! --Read what some have to say...Click here.
Sign up here...sign up now...It's FREE.

For more on the Spanish Timbrado Canary go to the American Association of Spanish Timbrado Breeders.
Find a Spanish Timbrado Canary Breeder...click here.
Have Something To Share About Canary Types?
Share it here...