German Roller Canary
The German Roller Canary is one of the oldest of the Song Canary varieties.
---
AKA (Also Known As)...
--Hartz Mountain Roller
--Hartz Roller
--Roller
As shown...the German Roller is also referred to as "Hartz Roller" but this can lead to some confusion because...
Even though the German Roller may also be known as the Hartz Roller there is a variety of canary bred in the USA known as the...
"Hartz Canary".
The Hartz Canary is not a Song canary but a Type canary.
Confused yet?...
Just remember--> The "Roller" is a Song canary and the other is NOT...the Hartz and the Hartz Roller are two different varieties of canary. OK...enough of that...


The most common name is German Roller and is often referred to simply as the "Roller". 
Of all the canaries, this Song Canary is said to have the...
MOST Enjoyable Singing Voice.
That is exactly why the Boston Housewives used the Roller to help create their American Singer Canary. They paired the...
Best voice-->German Roller...
with the most attractive appearance-->the Border canary.

Developed in the Hartz mountain region of Germany in the 1700's the Roller sings with his beak closed and, as a result, sings with the lowest volume of any canary.
All canaries have the ability to mimic other birds but the German Roller Canary is considered the BEST at mimicry. In shows the Roller is exhibited in teams of four to help bring out each individuals singing.
Of course, any male canary bird that is kept healthy with a good diet, allowed plenty of exercise, and provided with smart canary care will be a wonderful singer for your home.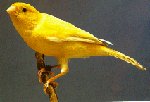 More fun-facts...
Canary Advisor.com's Canary Tips! Ezine delivers only original and immediately usable canary care information that...
...keeps your canary SINGING!
Thousands of canary lovers are enjoying their monthly
Canary Tips! -- Read what some have to say...Click here.
Sign up now and you'll also receive the Canary Care Strategies eCourse...It's all FREE...

 Click here for more info on the Roller Canary and Clubs.
Return from German Roller Canary to Canary Types.
Help us learn more about the German Roller! Add your comments below...
Have Something To Share About Canary Types?
Share it here...
What Other Visitors Have Said...
Canary Stopped Singing - Why?

I have a German Roller canary and he started moulting last March, and of course, stopped singing and to this date he still doesn't sing even though he's …